duo-glass.
A space-saving case conceptualized to hold a set of optical glasses in a minimal yet timeless form-factor.
the story
Our client wanted to rethink glass cases to conceptualize a design that allowed for a pair of glasses to be held in a single case. Having had experienced the inconvenience of carrying two isolated cases for his sunglasses and reading glasses, our client wanted a product unifying class and convenience.
the process
After an initial discussion our client, arbitrary set out to conceptualize the most viable design to accommodate the client's requirements. A few conceptual sketches were shared by us to help our client discern the design they adored most. The case was then modeled in CAD and prototyped through additive manufacturing. Keeping our client's vision at heart, we collaborated with a boutique leather goods specialist through the collective to guide the initial design. The 3D printed prototype was then shared with the leather specialist to be used as a template for an alpha prototype case. A bespoke leather case was fabricated using the finest leather and suede materials procured through the collective. Fabrication drawings were shared with our client as a guide towards mass manufacturing.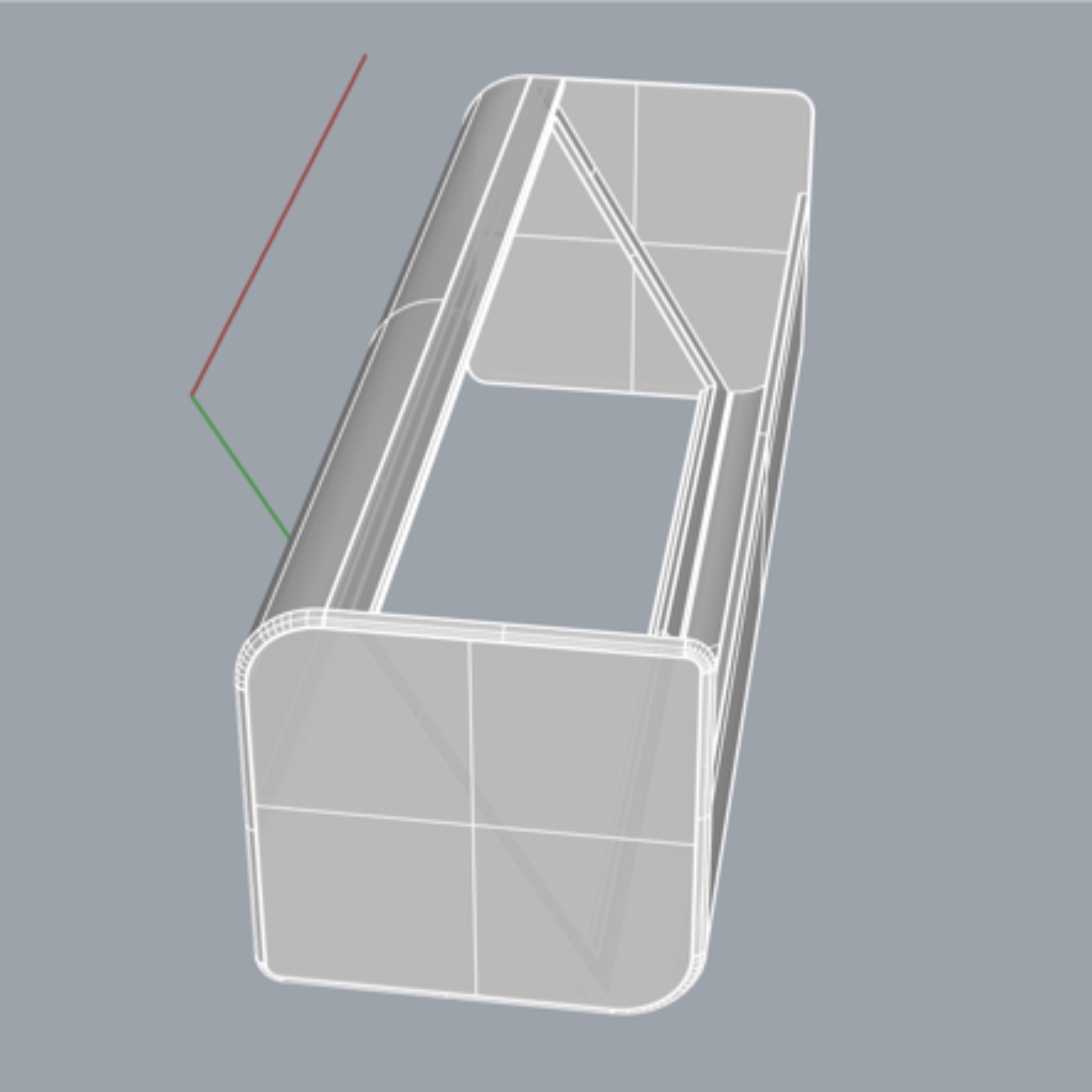 materials PLA | leather | suede
Processes prototyping | DFM 
green-air.
An intelligent bio air-purification planting device in a design-first form factor.
the story
Inspired by a recent NASA study that discusses the air purifying capability of certain plants, our client wanted to build a plant-based air-purification system as an IoT product. Our client wanted to develop a commercial bio air-purifier geared towards being used in public spaces such as universities, hospitals etc. While being able to hold multiple plant pots, the product was envisioned to include a smart industrial grade sensing architecture with a modular sensor bank. 
the process
After gathering insights from our client, arbitrary proposed the development of a singular pot based air-purification system for testing assumptions. An alpha prototype was modeled and subsequently fabricated through an additive manufacturing process. We suggested the implementation of hobbyist grade sensors and a simple dashboard for the purpose of testing assumptions to prove the hypothesis on a practical level. After a few months of testing and subsequent validation of the hypothesis, we put forth a proposal for the development of a beta prototype to be manufactured with industrial materials and industrial grade sensors. Through a collaborative development process working in tandem with programmers, embedded engineers and multi-material fabricators, a beta prototype was designed, modeled and fabricated to be deployed for further testing.
materials electronics | acrylic | aluminium | fabrics
Processes prototyping | DFF | fabrication | DFM
lux-vans.
Custom limousine interior conceptualization.
the story
Heading a bespoke custom limousine firm, our client, wanted a medium to quickly convey interior design concepts with his clients for feedback. Traditionally, our client resorted to arranging physical samples to showcase the interior themes, configurations and fit-outs. Through arbitrary's help, our client was able to send across photo-realistic visualizations of interior concepts and hence accelerate the conversion of his potential clients.  
the process
After meeting with our client to gather the requirements for the proposed interior to be designed, arbitrary set out to convert shared media into conceptual sketches customized to the specification of the vehicle to be retrofitted. The sketches were shared with our client and iterated several times as per the end client's preferences. 
Processes sketching | rendering
active-wall.
Three dimensional signage composing sports equipment for a sports themed bar.
the requirement
Our client wanted to experiment with a three dimensional installation for their sports bar's launch. 
the process
After visiting the sports bar and speaking to our client, arbitrary proposed few conceptual ideas for a sports themed wall through sketching. We then CAD modeled a few of the chosen design concepts to visualize them with sports equipments as per our client's preference.
Processes sketching | visualization | rendering
water-watch.
A bespoke skeletal water-filtration system.
the requirement
Our client wanted an exhibitive functional water-filtration system developed to showcase their unique substrates in the filtration process. 
the process
After an assessment of our client's requirements, arbitrary proposed a methodology for the production of the water-filtration system. Technical drawings along with a BOM were prepared to aid in the fabrication of the water filtration system in collaboration with fabricators within the collective. The water-filtration system, built to specifications, encompassing both aesthetics and functionality was delivered to our client's premise for testing. Continued support through testing was provided by us.  
materials electronics | aluminium | stainless steel | acrylic | PVC
Processes DFF | fabrication
push-grid.
An interactive grid of illuminating push buttons to create luminescent masterpieces.
the story
Our client had conceptualized an interactive electronic art installation as a center-piece for the launch of a new shopping mall in Dubai. The installation was to be a grid of 3,000 arcade style illuminated push buttons which would light up on interaction with visitors. The installation was to allow visitors to create masterpieces through illuminating the grid with their own unique patterns.
the process
After a brief discussion with our client about their requirements, arbitrary worked in tandem with fabricators and electronics specialists to propose a fabrication guideline for our client. After the approval of the fabrication guideline, the installation was modeled through CAD adhering to DFF fundamentals. Detailed models and technical drawings of the supporting structure, frontal grid plane as well as electronic/electrical elements were shared with our client for fabrication.
materials electronics | aluminium | MDF | wood ply
Processes DFF | fabrication
flash-cube.
A minimalistic flashlight with a twist mechanism for operation.
the story
Our client had conceptualized a premium mini flashlight with a brushed aluminum body and clean lines. Having had gained insights from consumers, our client wanted to develop a key-ring compatible flash-light with a discreet form factor. Our client had envisaged a unique twist mechanism for the operation of the flashlight as opposed to a tactile response based operation commonly observed in flashlights. 
the process
Following an introductory session to discuss the defining characteristics of the product, arbitrary brainstormed within the collective and presented several conceptual sketches to our client; the chosen sketch was converted into an aesthetic 3D model through CAD. Governed by the designed 3D model, a look-like prototype was fabricated through additive manufacturing. Next, we worked with embedded engineers within the collective to design the inner circuitry of the flashlight while industrial design experts guided the mechanical design of the flashlight based on the aesthetic model designed earlier. Through a few iterations, a beta prototyped was fabricated guided by the aesthetic and functional requirements of the final product. Our client was handed over DFM collateral for perusal of manufacturing at their disposal. 
materials electronics | aluminium
Processes prototyping | DFF | fabrication | DFM
tap-points.
An intuitive enclosure and charging system for a loyalty points accumulator.
the story
Our client, a budding loyalty tech entrepreneur, wanted to prototype a user-friendly enclosure and charging infrastructure for smartphones to be used as loyalty point accumulator tech within restaurants. The enclosure was to allow for the server to comfortably allow diners to tap their loyalty cards to accumulate points. The closure was to be made using a durable material with the ability to allow for the smartphones placed within to be serviced on-demand. The enclosures were to be complemented by a dock to allow for reliable wireless charging.   
the process
After an exhilarating session understanding our client's pain points, arbitrary brainstormed a conceptual design conveyed to the clients through various sketches. The selected design was then modeled using CAD iterated through multiple designs for both the enclosures and the dock. The final iteration was then fabricated through additive manufacturing to ascertain fit and functionality for our clients requirements. The prototype was then finished using various post processing techniques to achieve an industrial finish. The various components were assembled and the prototype was handed over to our client for presentation to investors. 
materials electronics | plastics
Processes prototyping | DFF | fabrication | post processing
smart-HVAC.
An elegant enclosure for smart HVAC sensing tech.
the story
Our client, a budding HVAC tech entrepreneur, aspired to develop a modern housing for his sensing and control unit. The enclosure was to allow for enhanced passive circulation of air to allow for accurate sensing. The enclosure was also to be designed in accordance to DFM principles to enable our client to pursue mass production at a later date.  
the process
After gaining a strong understanding of our client's requirements, arbitrary conceptualized an array of designs to allow for functionality as well as smart aesthetics. The winning design was then modeled for fabrication through additive manufacturing. The fabricated prototype was then tested to ascertain the functional features and subsequently post-processed to attain a modern look. The design was tweaked to allow for manufacturability and relevant collateral was supplied to our client for the perusal of mass production at a later date. 
materials electronics | plastics
Processes prototyping | DFF | post processing | DFF
porta-resto.
A bespoke convertible food truck cum restaurant with an artistic flare.
the story
As an ambitious first venture into the F&B domain, our client envisioned a unique concept within the food truck sphere. Our client wanted to develop a food truck concept that could be propped up into a restaurant. The chassis of an existing caravan was used as a foundation to build up the primary truck structure. A hydraulic system was to be installed to allow for the truck to extend and retract the secondary structure for operation of the truck as a restaurant. A sliding roof was also to be implemented to allow for artificial air conditioning of the space within the extended truck. The truck was also constructed to account for reliability and road worthiness.
the process
Following a session to understand our client's requirements, motivations and existing structure for the project to be executed upon, arbitrary conceptualized several concepts and provided our client with elaborate sketches and renders to showcase aesthetics. The chosen design was then used as a template to develop an aesthetic design. Once the aesthetic design was approved for execution, we collaborated with several collaborators within the collective including architects, designers, structural engineers, automotive specialists, interior designers and F&B professionals to design a novel truck as a first in the region. After several weeks of diligent designing, we worked with fabricators to convert virtual designs and drawings into tangible elements. The project, over the course of a few months, led to the evolution of a bespoke food truck restaurant characterized by unparalleled design, architecture and functionality. 
materials paints & coatings | fibre glass | steel | MDF | ply | ceramics | stone | appliances
Processes conceptualization | architectural design | structural design | MEP | DFF | fabrication
art-tables.
Emirati heritage inspired bespoke tables.
the story
Our client, a prominent architectural consultancy in the region, wanted to curate a collection of tables for exhibition. They wanted to experiment with unorthodox fabrication methods to fabricate intricate designs through technologies such as laser cutting for etching patterns on marble tops as well as a unique resin top to name a few.
the process
After aligning with our client to gauge their requirements, arbitrary ideated for possible methodologies for the fabrication of various table finishes required. We then proceeded to fabricating the tables using a myriad of technologies and processes.  
client architectural firm
materials marble | plastics | paints & coatings | resin
Processes prototyping | DFF | fabrication
the-bean.
An experiential installation with a larger than life bean bag at it's core.
the story
An experiential events agency approached us to help facilitate the conceptualization and development of an installation for the Qasr Al Hosn festival in Abu Dhabi. The installation involved the construction of a 12m long and 2.5m wide bean-bag within a container as well as a unique panelling system for the fixture of acrylic mirrors to allow for a singular mirror ceiling. The container was also fitted with a concealed sound system and lighting to enhance the visitor experience. The installation was to be completed in a   short time span of 3 days at a remote location in Abu Dhabi city. 
the process
Our client approached arbitrary to share a unique concept that they wanted to implement for an installation in Abu Dhabi to be completed within 7 days. We set out to brainstorming the most efficient and effective methodology for the fabrication of the various elements of the installation and prototyped a few samples to help our clients ascertain the materials they would like to use. We worked with a consortium of textile specialists to develop an approach towards stitching a larger than life bean bag. We also procured several other elements of the installation including lighting and sound systems. The production was accelerated due to the short time line and the execution of the installation was planned. The reliability and durability of the installation was monitored by us and redundancies were set in place to ensure uninterrupted operation.
materials fabrics | styrofoam | MDF | acrylic | electronics
Processes conceptualization | fabric design | structural design | DFF | fabrication | logistics | project management
Work
product development
design
fabrication
electronics
bespoke
events